Description
Seeds for sale .
to visit the shop direct … click below 
Visit our shop
Last year we were asked to sell our seeds , our customers were annoyed at purchasing seed from other sources and it not germinating.  We do depend on our supplier to get the best quality we can
we offered seed ,fresh seed and did the scarification, and started the stratification. For our customers to complete the process .
we offered seeds in quantities of 50 of each variety ,and a 50 mixed .and 25 gram of a single variety,    they were both popular and we will offer the same this year ,
we are purchasing
Acer palmatum small seed                 NOW AVAILABLE IN STOCK                                                                              It is used for grafting understock because of its hardiness and vigor. It also makes a great specimen tree with orange-edged leaves in spring and brilliant fall colors of red, orange, yellow, or mixed. Its beautiful spreading habit and small leaves are graceful the year round. This tree grows to 14 feet tall and wide but may get taller or wider due to seedling variations or site conditions. Heat tolerant.
Acer palmatum large seed                   NOW AVAILABLE IN STOCK                                                                  these seeds are quite varied and are to grow on as specimen , not for understock . We have had atropurpureum and dissectum amongst them it is exciting to see what they will come like
Acer palmatum atropurpureum              NOW AVAILABLE IN STOCK                                                  These are predominately red maples, again we have many variations previously in this seed lot including dissectum. These are small specimen trees for garden or patio container. Personaly I would not use for Bonsai or understock.
Acer Beurganium  trident maple.         NOW AVAILABLE  IN STOCK                                                         This maple has long been a favourite with the Bonsai growers spectacular autumn colour. Either a bonsai or specimen tree . Well worth garden space.
we are hoping to maintain last years prices
50 seeds individual variety for £5.50 inc P&P
50 seeds mixed of above    For £5.50 inc P&P
25 grams Individual varieties  for £15.00 in P&P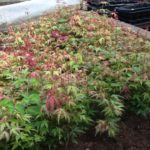 This is our seed bed this year the germination was very good