THERE IS ROOM FOR A JAPANESE MAPLE IN ANY GARDEN OR ON ANY PATIO IN A CONTAINER ….
They are all easy to look after, only need maintenance pruning .Very hardy and have spectacular leaf colour  changes throughout the year they range from small shrubs to medium-sized trees and most can be  trimmed to any size in between, most make good Bonsai subjects    .
These Japanese Maple Bare Root seedlings are all more than 250mm tall and have several sets of leaves for ease of postage they are dispatched without a pot. They have been growing in 75mm pots and are well rooted and easy to transplant into larger pots.
Pot up using any good compost and keep, sheltered, cool, and watered for a few days until they have recovered. Feed with a weak liquid feed weekly until the end of August. For the first year some winter protection would be appreciated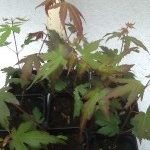 Japanese Maple Bare Root seedlings for sale
please contact us be email
Buy Japanese Maple Bare root seedlings
These Japanese maple trees will be offered as bare root over the winter until late February. Plant them up into pots and give some winter protection.