We do not have any blue seeds, the variety seems to be acer palmatum "photo-pro". There are several photos of the same five tree group in images with several distinct different colour.
I can't find another site on the net selling the same seeds in stratification as we are offering. There are a lot of sites with dry seeds and cheap seeds.
But I need your repeat orders. Every year!
OUR SEEDS ARE NOW IN STOCK AVAILABLE FROM THE SHOP.
ORDER YOUR SEEDS FOR THE NEW SEASON NOW !! 
THERE IS ROOM FOR A JAPANESE MAPLE IN ANY GARDEN OR ON ANY PATIO IN A CONTAINER ….
Please visit our tree and seed shop to purchase
They are all easy to look after, only need maintenance pruning. Very hardy and have spectacular leaf colour changes throughout the year they range from small shrubs to medium-sized trees and most can be trimmed to any size in between, most make good Bonsai subjects.
Fresh Japanese maple seeds harvested, imported and subjected to standard pre-germination treatments. This simulated cool regime is designed to produce optimum germination, after the calculated last frost.
Our Japanese maple seeds have been sourced from the same supplier as last year – so we know they are of a high quality.
Please visit our tree and seed shop to purchase

Japanese maple seeds we are presently offering annually for sale…
All the palmatum seeds in this crops viability is better than 80%.
They are dispatched in the germinating medium, they have had the scarification, and now in stratification. They are contained in zip bags. Full instructions will be emailed with order to complete germination
Acer palmatum "Atropurpureum" Japanese Red maple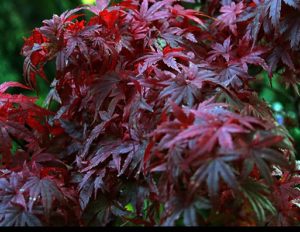 These trees are predominately red all season with several hue changes.
Acer palmatum, green maple
These trees could start with pink tints through apple green, deep green to spectacular red and yellow fall colours
Acer palmatum, the original green Japanese maple is grown from seed and is the easiest of them all to grow and takes the hot sun better than any. It is the Japanese maple found in the wild and has been around for about the last 80 million years.
I use it for all my grafting understock because of its hardiness and vigor. It also makes a great specimen tree with orange-edged leaves in spring and brilliant fall colors of red, orange, yellow, or mixed. Its beautiful spreading habit and small leaves are graceful the year round. This tree grows to 14 feet tall and wide but may get taller or wider due to seedling variations or site conditions. Heat tolerant.
Not sure what you want?
If you need help choosing the right Japanese maple seed for your garden or project, please do not hesitate to get in touch. We have lots of knowledge and would love to help you. Click here to email us.